Jolly Mountain Fire
Attention Suncadia and Tumble Creek Residents,
Your safety and well-being is important to us and we want to remain in communication with all residents as the Jolly Mountain Fire continues to be a threat.
Atlas Networks is carefully tracking the progression of the fire and making preparations that allow our services to be functional for as long as possible and return quickly if they happen to go down.
Summary of the Jolly Mountain Fire:
A lightning strike started the Jolly Mountain Fire on August 11, 2017. The fire continues to burn on the Okanogan-Wenatchee National Forest and on or near land managed by the Washington Department of National Resources and The Nature Conservancy.
The fire is being managed for full suppression, meaning that the objective is to have the fire fully contained. Fire managers anticipate that it will continue to burn until a season-ending event occurs in the region.
On Saturday September 2, 2017, Governor Inslee declared a statewide State of Emergency for Washington due to wildfires. This activates the National Guard, a State Emergency Operations Center, and mobilizes local and state firefighting resources. Read the full declaration here.
Please be aware of the following alerts and take all necessary precautions ensuring the safety of you, your family, and friends:
Air Quality
Air quality is currently somewhere between unhealthy and hazardous. The Kittitas Public Health Department strongly recommends all outdoor activities be canceled or moved indoors. Free masks are being distributed at the Putnam Centennial Center. The center is also being used as shelter for anyone seeking refuge from the fire.
Risk Mitigation Outside
Officials are asking that you not run sprinklers as it is depleting water supplies and consider taking the following precautions:
Turn off all propane tanks and other gas sources
Clean gutters
Rake flammable debris away from the structure
Bring combustible items from outside to inside (patio furniture, toys, door mats, etc.)
Cover attic and ground vents with pre-cut plywood or commercial covers
Risk Mitigation Inside
Close all windows and doors
Remove all flammable window shades and curtains
Turn off pilot lights and air conditioning
To stay updated on the fire's progression please refer to the following informational pages:
Kittitas County Sheriff Facebook Page
Jolly Mountain Fire Facebook Informational Page
InciWeb Jolly Mountain Fire Incident Information
Jolly Mountain Active Fire Map
Much of this information was provided by Kenneth Howard, our onsite Atlas Field Tech for Suncadia and Tumble Creek. He is aware of the situation and staying on top of all developments. Atlas Networks is performing many of the cautionary measures stated above in and around our NOC and Nodes throughout the Suncadia and Tumble Creek.
Rest assured, we are doing everything we can to keep our services strong and consistent for as long as possible.
If you have any questions, please don't hesitate to contact us at (206) 395-7222 or email support@atlasonnet.com
Thank you,
Atlas Networks
The Suncadia Homeowner's BBQ was a success!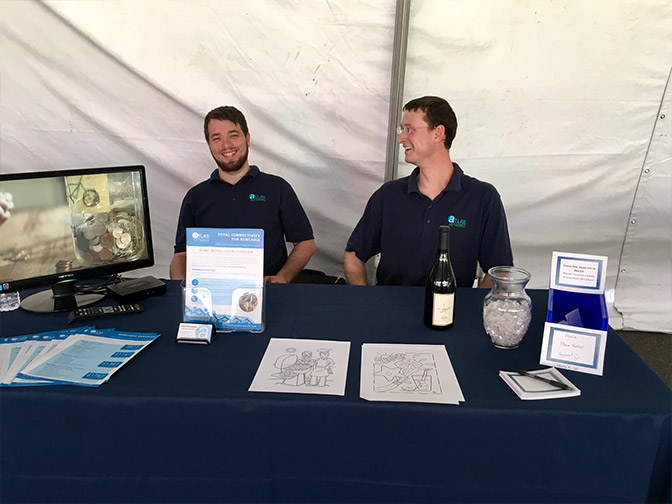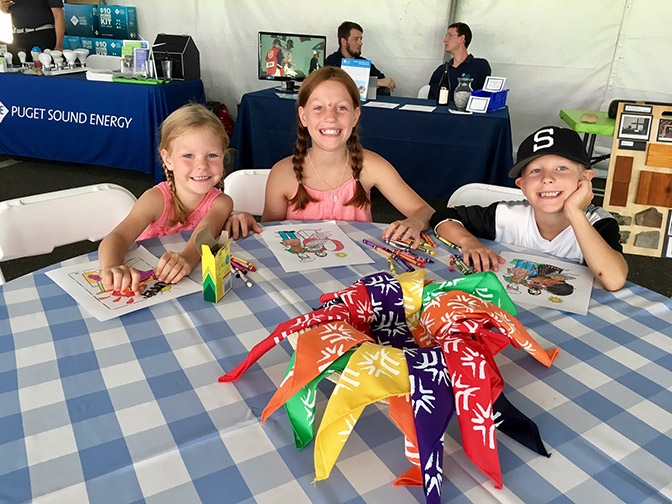 It was the perfect day for a barbeque in Suncadia last Saturday, and we were thrilled to take part in the festivities! Good food, ample sunshine, and fun conversation dominated the day. Sr. Network Architect, Nathan Eisenburg, Customer Service Supervisor, Andrea Eisenburg, and our onsite Atlas Technician, Kenneth Howard, manned our information booth located under the tent. "It was the best turn-out over the last three years!" says Andrea. "It was so fun interacting with the Suncadia community and our onsite Atlas team members."
During the BBQ, we had a chance to show off our new TV platform with a live demonstration. We were also able to answer questions and have meaningful discussions with community members. "Face time makes such a big difference in relationship building," says Andrea, "emails and phone calls are great, but nothing beats a good conversation."
We were also able to talk with new and upcoming homeowners about the installation process and what to expect. If you missed our booth, but want to learn more about Atlas install process, visit our new Suncadia Website for more information.
It wasn't all business though – one Suncadia homeowner walked away with a nice bottle of wine after submitting a guess only 4 off from the 241 Mod Ends in our jar! Kiddos also enjoyed themselves with our coloring and art table. We had so much fun interacting with the Suncadia community and can't wait for next year!
Remember, if you have any questions about your current service, installation, or upcoming changes to your plan, please contact us at any time. We would love to hear from you!
Happy Summer!
We hope you are enjoying the summer sun and scenery in beautiful Suncadia.
Here's a rundown of the latest developments at Atlas Networks.
DVR Development and Beta-Testing
At Atlas, we are always striving to bring the very best in internet, phone, and television to your community, and we are proud to announce that we have completed the initial build of the DVR (Digital Video Recorder) platform! This feature is in testing with a handful of homeowners now.
As a new feature for our Suncadia TV customers, this DVR update will include the following:
A user-friendly, searchable interface with a clean, eye-catching design.
If you begin recording in the middle of a show, our software will allow you to watch it from the very beginning.
We've fixed the slow channel guide browsing bug and revamped the interface. No lag time or buffering as you search through the channel guide while the interface is designed to be simple and seamless.
This initial update has been pushed out to a group of homeowner beta-testers which have already been providing us feedback. We plan to expand this beta group in the coming weeks and will send additional updates when we are ready to sign up another round of DVR users!
Suncadia Homeowner's BBQ – July 22nd
Stop by the Atlas booth during the Homeowner's BBQ on July 22nd. We'll be located under the tent and ready to talk turkey! Connection questions? Troubleshooting? Want to learn more about the IPTV upgrade or DVR functionality? Come chat with us. We also plan to have fun games (and awesome prizes) for adults and kiddos. See you there!
Get involved with us on Social Media!
Keep up-to-date on the latest Atlas Networks developments by following us on Facebook and Twitter.
If you have thoughts about future blog posts, feel free to reach out to me directly. I run the blog, newsletter and website content here at Atlas. My email is chelsea@atlasonnet.com.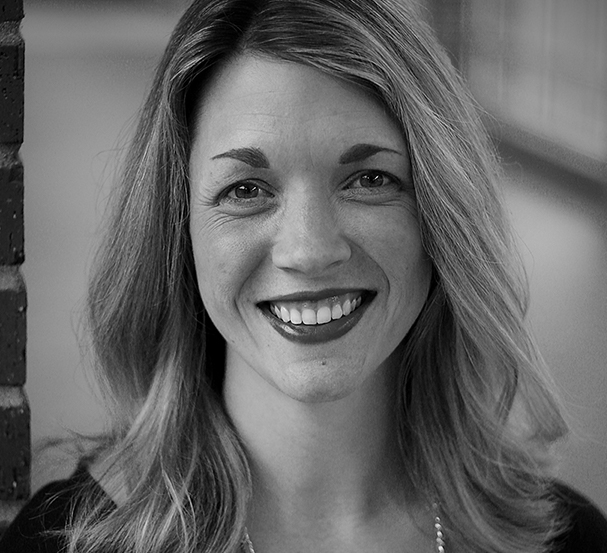 Atlas Networks 10 Gigabit Capacity Increase in Suncadia
Ready to freely stream Netflix and Hulu this holiday weekend without lag times and buffering? We are too! Atlas Networks recently upgraded our backhaul fiber connection between Seattle and the Suncadia community to 10 Gigabits of capacity. Always staying ahead of the game, this is just one of many times we have increased our capacity to accommodate the growing bandwidth needs of Suncadia and Tumble Creek.
The History
Before Atlas Networks came into the picture, Suncadia ran on a single T1 line at 1.54 Mbps (mega-bits per second) When we took over in 2009, Atlas immediately added a second T1 line doubling the capacity to 3 Mbps.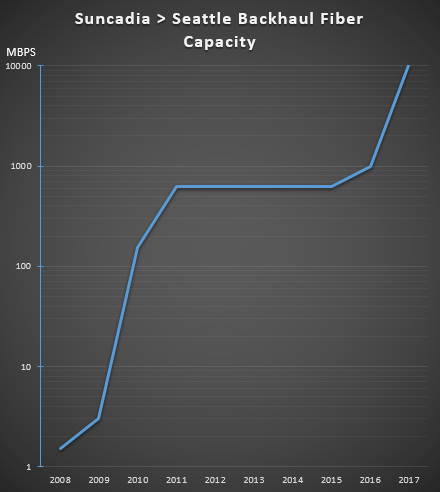 At the same time, we began work to build a fiber backhaul to Seattle, jumping the capacity to an OC3 circuit at 155.52 Mbps. In 2011, we upgraded the backhaul to an OC12 which increased Suncadia's capacity to 622.08 Mbps. In 2016, we changed the backhaul fiber from an OC circuit to an Ethernet transport circuit capable of 1,000 Mbps.
Today
Internet usage in Suncadia ebbs and flows depending on seasonal changes, with the highest volume happening over holiday weekends (who wouldn't want to spend holidays with friends and family immersed in a mountain setting?). To combat internet slowdowns during these high traffic times, we recently upgraded the Internet capacity to 10,000 Mbps (or 10 Gigabits)! This capacity increase will allow for more simultaneous use and high-speed, secure connections, no matter how many people are streaming in Suncadia.
As capacity needs grow, so will our capabilities. We can continue to upgrade to 40,000 Mbps and eventually to 100,000 Mbps! Count on us to take care of you by staying on top of usage needs and maintaining a proactive (rather than reactive) stance. At Atlas, we've always got your back!
Have a wonderful 4th of July, stay safe and enjoy the time with your friends and family!
Strong Against Cancer
With Russell Wilson and Sports Radio 950 KJR
It was a beautiful day on the Tumble Creek green - perfect for good times and golf, all in support of a worthy cause. The Wilson Celebrity Invitational, an annual benefit put on by Why Not You, a charity founded by Seattle Seahawk's Russell Wilson, combines the worlds of football and golf to create a one-of-a-kind tournament.
Held at Suncadia Resort in Cle Elum, WA, the 2-day private event began in 2014 to give back to the Seattle Community. Proceeds from the charity invitational will go towards the Seattle Children's Strong Against Cancer campaign – a nationwide initiative inspired by the immunotherapy discoveries at the Ben Towne Center for Childhood Cancer.
Sports Radio KJR, in partnership with iHeart Radio, live broadcasted the tournament at Suncadia's Tumble Creek Golf Course, featuring interviews with sports celebs such as Russell Wilson and Sidney Rice. Their own fundraiser, the KGR Kares-A-Thon, was also underway with proceeds benefiting the Strong Against Cancer Campaign as well.
Listen to Chuck and Puck wrap up the KGR Kares-A-Thon here.
Atlas Networks' Andrea Eisenburg was happy to be on-site for the duration of the invitational providing high-speed internet for the KGR live broadcast. "I literally held down the fort to keep the KJR/iHeartRadio tent from flying away, it was super windy!" says Andrea. "The KJR and iHeart media guys were awesome to work with and I brought back a fantastic sunburn to this side of the mountains."
ABOUT STRONG AGAINST CANCER
Strong Against Cancer is a nationwide initiative inspired by the immunotherapy discoveries at Seattle Children's. This initiative is a team effort on the part of hospitals, researchers, doctors, nurses, corporations, organizations and individuals. The captain of the team is Russell Wilson, quarterback of the Super Bowl champion Seattle Seahawks, who learned about immunotherapy during his regular visits to Seattle Children's Hospital. Clinical trials for this therapy are now underway and are producing exceptional results in eliminating childhood leukemia. The aim of the Strong Against Cancer team is to create a national philanthropic initiative with worldwide implications for curing childhood cancers through these immunotherapy treatments. For more information or to make a donation, visit www.StrongAgainstCancer.org.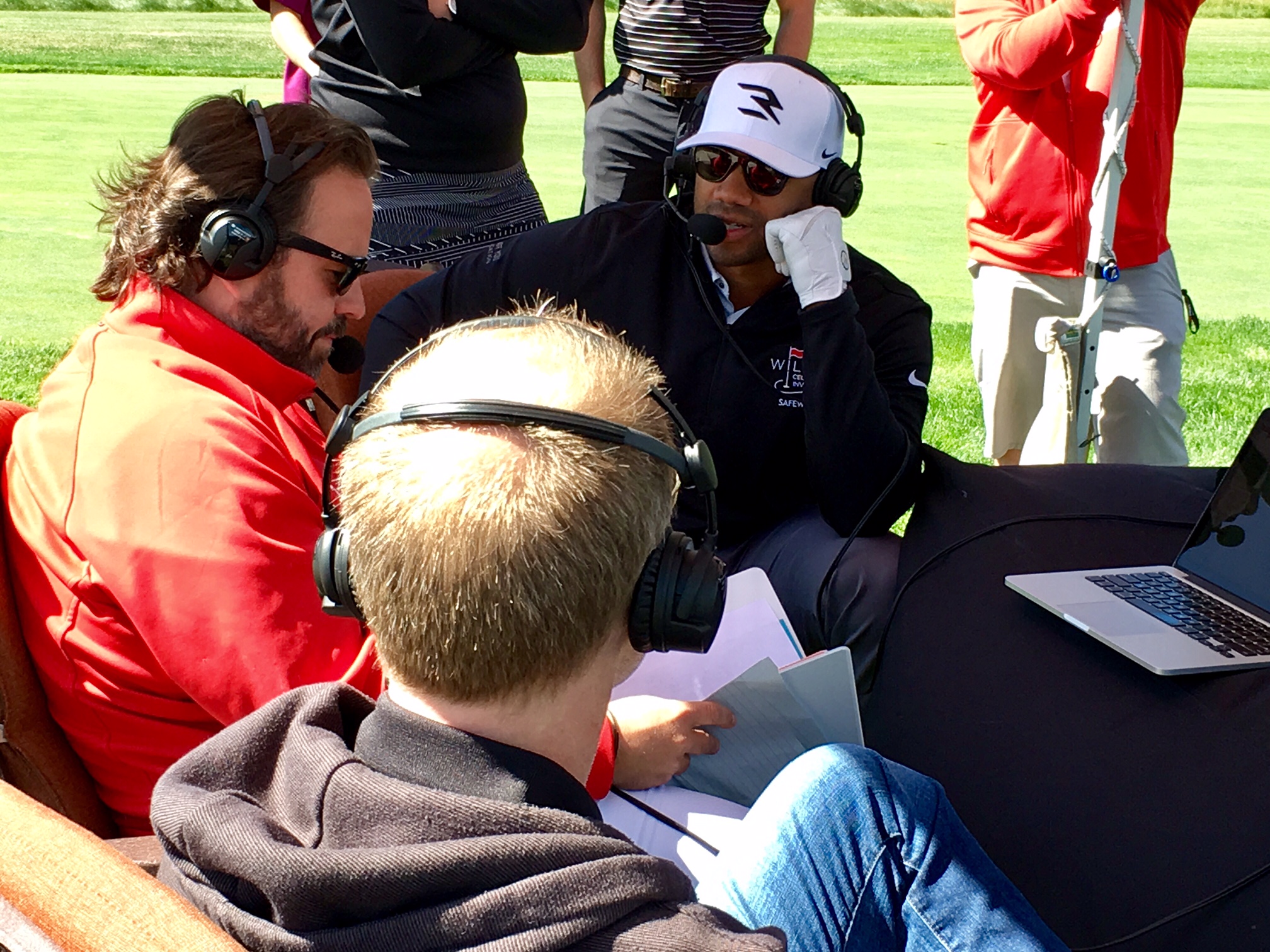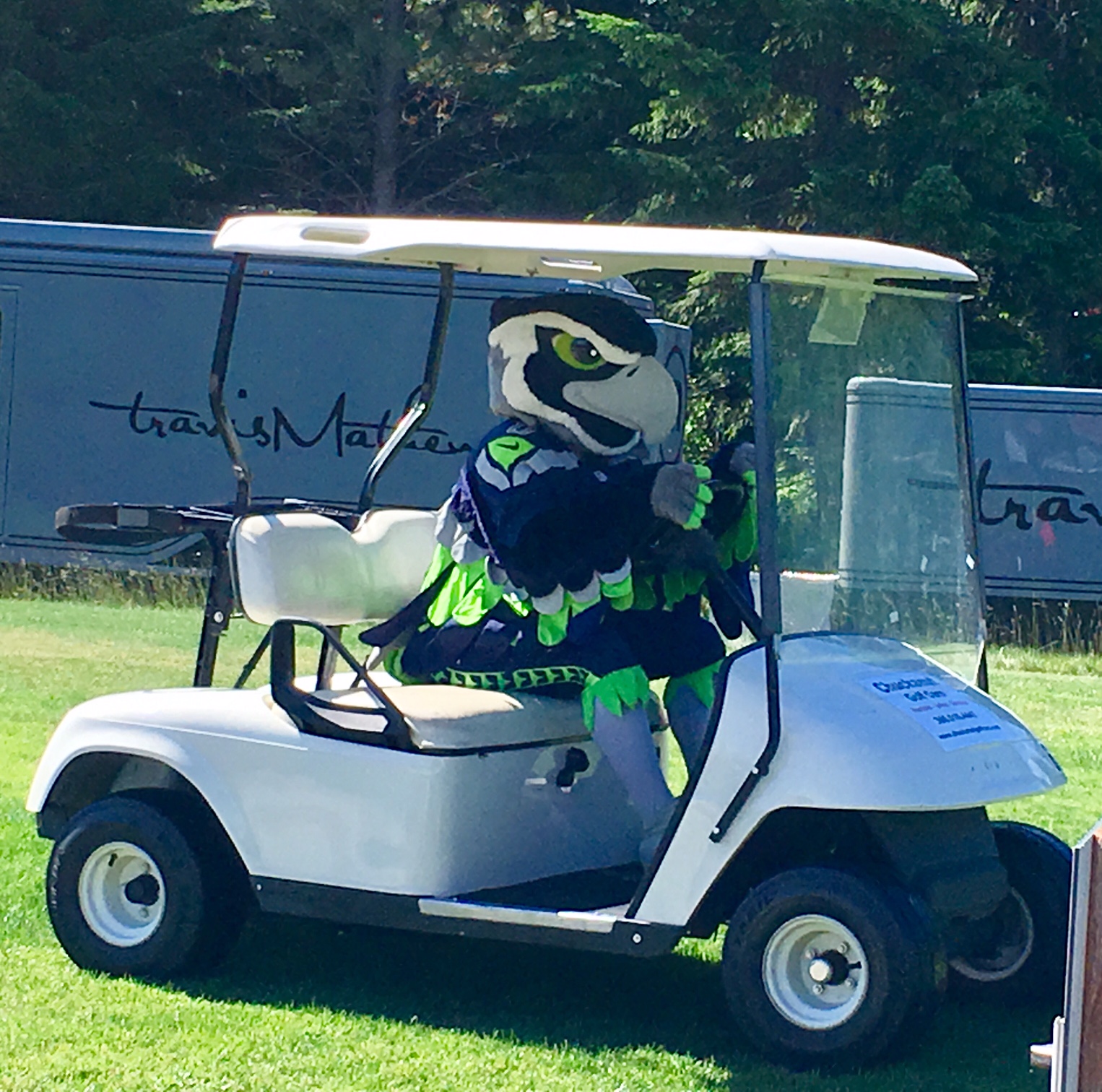 Kenneth Howard
Multi-Tasking pro and All Around Nice Guy
Kenneth Howard is the kind of guy who arrives early and stays late to get things done right. He's the Atlas Networks Field Technician for the Suncadia Resort Community, and we wanted to take a moment to introduce him to you.
Kenneth is not native to the Pacific Northwest, he hails from Dallas, Texas, where much of his family still resides. He moved to the Seattle area in April, 2015 looking for a change of pace and weather. "I wasn't content in Texas and was looking for a change," says Kenneth. "I looked at world maps comparing attributes of different regions. Seattle looked good to me in terms of weather, culture and the growing technology marketplace. My cousin needed a roommate, and all the pieces seemed to fall into place."
He was interested in transitioning to a more technically focused career, and after few months of exploration, decided to hitch his wagon to Atlas Networks taking on the role of Field Tech in Suncadia. Kenneth has a background as an electrician and experience in the construction industry, and while this job is centered on technology, it utilizes many of his skill sets from the past. It's the best of both worlds!
Receiving most of his assignments from the Atlas Customer Service Department in Seattle, Kenneth is considered a technician, but as the main point of contact in Suncadia, has become a jack-of-all-trades for the community.
He completes pre-install checks (aka home inspections) making sure the communications panel and conduit meet all the required specifications to ensure a smooth installation. He also installs fiber, mounting equipment, and patch panels to get customers connected to the Atlas Network. "I'm really excited about arc-fusion splicing with fiber," says Kenneth. "That's when two ends of glass are fused together with an arc of electricity, this is how we connect the fiber directly to homes of our customers."
When he's not on an install, Kenneth is busy maintaining all Nodes in Suncadia and troubleshooting any connection issues that arise quickly and efficiently.
"In the beginning I learned a lot about how the internet works and how cabling is handled," says Kenneth, "but there has been a lot of carry-over from my time as an electrician in Texas and experience with construction, not only in relation to job quality, but safety best-practices as well."
When asked about the distinct change in weather (when compared to Texas!) Kenneth noted that when the weather takes a turn for the worse here, everyone is prepared for it. "I like the change in weather and enjoy the snow," says Kenneth, "and you know what they say, you can always put more clothes on when it's cold, but you can't take more clothes off when it's hot – and Texas is hot!"
Kenneth visited Suncadia just one time before taking the job, and is very happy with the decision. "I like the reduced traffic and the fresh air," says Kenneth, "the community is full of kind people and I enjoy working with them."
We are happy to have Kenneth on the Atlas team as well and would like to thank him for all his hard work and dedication to the Suncadia Community. Way to go!
If you would like to get connected with Atlas Networks please contact a customer service representative today.
Keep up with company news and tech trends by following us on Facebook, Twitter, and LinkedIn.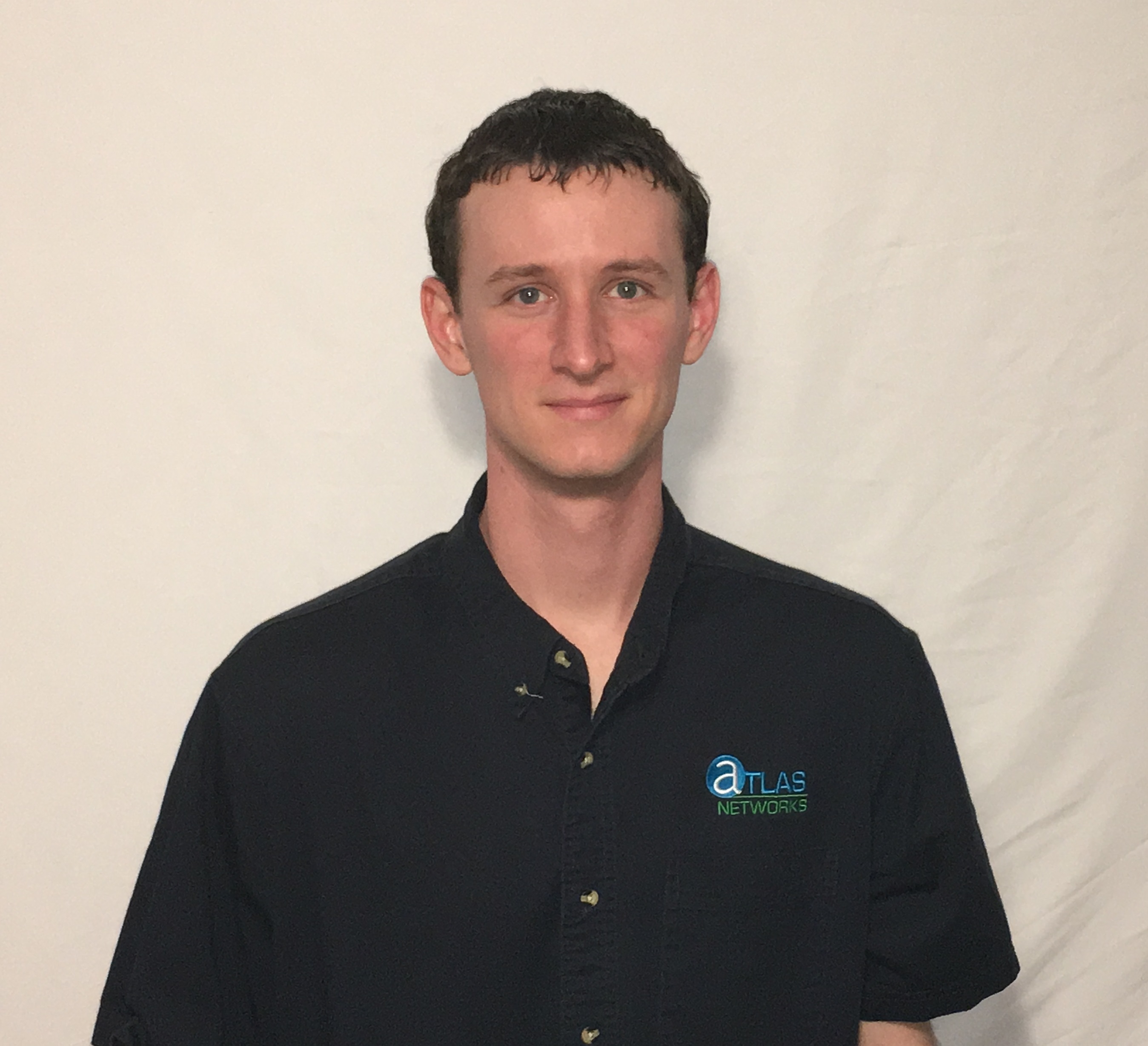 December Newsletter
We're off to the races - IPTV Beta Testing is officially underway!
In November, Atlas met with our Suncadia Beta Testing group for the new IPTV upgrade. We discussed the new features and functionality of IPTV, and sent them home with new set top boxes.
This upgrade and drop-in set top box replacement comes at no additional cost to you, will resolve the audio-visual synchronization bug, and enables users to:
See channels up to a week in advance.
Enjoy an improved channel guide with richer content and greater detail.
Search for programs by name and receive in-depth scheduling information.
Within the first few months of 2017 we will begin installing additional set top boxes in the Suncadia community. All residents who subscribe to Atlas IPTV services will be upgraded. We are excited to get our first batch of Beta Receivers next week!
It's time to upgrade!
To the Active Ethernet (AE) Network.
Receive a faster, more reliable internet and improved telephone and TV connectivity with Active Ethernet!
Atlas has successfully upgraded approximately half of all Suncadia homes to the AE Network from the aging fiber equipment installed by the previous operator. Through this simple upgrade, homeowners will enjoy faster connection speeds and a higher quality phone and television connection. If you haven't been upgraded yet, we'll be contacting you soon via phone or email to schedule your upgrade. There is no installation cost for the equipment upgrade, although some homeowners still on the legacy lower end service plans will see a slight rate change due to increased speeds. Please see our website for more details: http://suncadianet.com/products/services-for-suncadia.
Don't want to wait? Contact us today to schedule your home for the AE upgrade!
Gigabit internet speeds will be available to Node 3 residents soon.
Atlas operates 6 fiber distribution nodes in Suncadia, and we are planning to upgrade Node 3's equipment, making next generation speeds available to more residents. All Suncadia residents whose homes are serviced from "Node 3" will have the option to increase their internet from the standard 100 Mbps, to ultra-fast Gigabit speeds. With this upgrade, nearly all areas in Suncadia will be gigabit capable. Contact us if you are interested in taking advantage of this Gigabit option!
If you live on the following streets in Suncadia, your home is affected by this upgrade: Larkspur Loop (West of Wood Rose Court), Bunchberry Ct., Snowberry Loop, Elk Sedge Ct., Ocean Spray Ct., Dogwood Ct., Spirea Ct., Buttercup C., Meadow Sweet Ct.
Kenneth to the rescue!
Thanks to the quick turnaround of our Suncadia field technician, Kenneth Howard, a winter weather mishap became a non-issue. Earlier this week a snow plow hit one of Suncadia's vaults, ripping up the fiber inside and taking two residences offline. Kenneth was able to quickly resolve the issue by fusion splicing the damaged fiber getting the two homes back online in no time. Thanks Kenneth!
We loved your photos.
Thanks to everyone who participated in the Suncadia photo contest this past summer. Your photos were just beautiful. So beautiful, that we have decided to incorporate some of them into our new website, showcasing the scenic Suncadia Community! All photo credits will be given, and for those with a flair for photography, we plan to accept additional photo submissions for our new website in the future. Check out the top photos from last summer here.